The Normandy Chair for Peace, an interdisciplinary platform for research and education, has been making strides in promoting responsible legal research and innovation. Alexandra Aragão, a Professor at the Faculty of Law of the University of Coimbra in Portugal, recently spoke with Emilie Gaillard, the General Coordinator of Normandy Chair of Peace, about the chair's amazing summer school and its various research lines.
Aragão, who first learned about the Normandy Chair for Peace through Gaillard, described her experience during the Model United Nations Activity as a stimulating one where students from different parts of the world participated, discussing environmental issues with great seriousness and engagement.
Aragão is a leader in the line of research innovation, responsibility, legal, and her goal is to promote responsible legal research and innovation. She believes that the indicators used to measure responsible research and innovation in other fields should also be applied to legal research. The book she is working on aims to explore six indicators, including governance, education, ethics, open access, gender, and engagement, from a legal perspective. The purpose of this research is to develop a concept of legal research and innovation in a responsible way, which involves engaging participants, dialogue with stakeholders, empowering different actors who are objects of legal research, and dealing with the ethical aspect of research, such as ensuring the protection of vulnerable communities. The ultimate objective is to use legal research to promote sustainable development.
Aragão praised the Normandy Chair for Peace's open access and open-minded approach to research, which allows researchers to propose novel processes of doing research and arriving at sustainable proposals. She also commended the Chair's dispositive sharing and its functioning model, which can inspire other research organizers in different countries to bring people together to contribute towards the same objective, without stringent and defined goals to be attained in certain deadlines. Aragão is part of the international team in Normandy Chair for Peace that is working on legal indicators of effectiveness and effectivity of environmental law, which aims to develop a concept that can be applied to internal laws in different countries. The team, consisting of researchers from Portugal, France, Tunisia, and Brazil, has adapted the French concept of legal indicators to their own legal contexts and is engaging in dialogue with stakeholders to ensure the protection of vulnerable communities and promote sustainable development.
Aragão believes that the richness of Normandy Chair for Peace lies in the fact that it can deliver more effective results than short-term and stringent research projects by engaging researchers from different academic and non-academic contexts worldwide.
Professor Aragão praises NCP's open approach to research & interdisciplinary teams.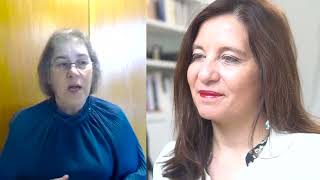 Prof. Aragão and Prof. Gaillard discussed the work of Professor Michel Prieur, the Professor Emeritus of Law, who created the first line of research of Normandy Chair for Peace on legal indicators measuring the effectiveness of environmental law. In 2019, lawyers from four countries, including Tunisia, Brazil, Portugal, and France, participated in a project called Measuring the Effectivity of Environmental Law through Legal Indicators. The project aimed to understand legal indicators' concept of effectiveness in environmental law and expand it to national laws by creating interdisciplinary teams to develop a questionnaire to assess the effectiveness of law applicable to nature conservation areas. The questionnaire was addressed to stakeholders to determine the law's effectiveness and was submitted to a pool of participants for feedback to improve it for further applications. The project highlights the importance of scientific tools to assess and measure sustainable development.