First anniversary of the Normandy Chair of Excellence for Peace on World Environment Day.
The occasion to draw up the balance sheet of the first year of research which is articulated around 10 main lines. The students of the Caen campus of SciencePo Rennes and the realization of an educational kit on the SAPARA people of Ecuadorian Amazon, the launching of a privileged partnership with the NGO Planète Amazone and the Alliance of the guardians of Mother Earth as well as the Good Stories project under the scientific direction of Tony OPOSA.
This anniversary is also an academic highlight with two high profile university lectures: that of Professor Mireille DELMAS MARTY "A Compass of Possibilities. Global Governance and Legal Humanisms" and that of the Chair Emeritus, Professor Nicholas ROBINSON on "Paths to a Just World at Peace with Nature".
Finally, in the third part, Emilie Gaillard, general coordinator of the Chair, presents the high-level partnerships and the upcoming scientific diplomacy activities planned by COVID.
Certainly the pandemic requires an adaptation of the methods of research but for all that will not be a brake, quite the contrary!
Compilation of strong messages on the first anniversary of the Normandy Chair for Peace: Assessment, Reflections and Announcements.
A first anniversary from the 4 corners of the world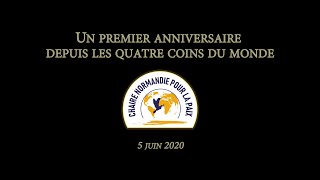 The Normandy Chair of Excellence for Peace is an initiative of the Normandy Region and the CNRS. Its purpose is to bring together international researchers to promote an ideal of peace with the Earth and to further the rights of future generations. It is supported by the Normandy Region, the CNRS and carried by the MRSH CNRS of the University of Caen Normandy. On Friday, June 5, 2020, with speakers from several continents, the Chair presented for its first anniversary a panorama of actions carried out in France, in several regions of the world and on the occasion of several major international events.