Antonio A. OPOSA, Jr.
Chair Leader
Antonio A. OPOSA, Jr., is internationally known based on his work in Minors Oposa v. Factoran (1993), which adopted the principle of intergenerational responsibility concerning the remaining old-growth forests in the Philippines. He was selected as commencement speaker for his 1997 Master of Laws class at Harvard; he was also named to the UNEP Global 500 Roll of Honor that year.
Oposa waged a ten-year legal battle to secure an order from the Supreme Court of the Philippines in 2008, requiring the government to clean up Manila Bay. In 2008, he became the only Asian to receive the Washington D.C.-based Center for International Environmental Law Award.
In 2009, Oposa received Asia's highest recognition for public service: the Ramon Magsaysay Award (citing "his path-breaking crusade to engage Filipinos in acts of enlightened citizenship using the power of the Law to nurture the environment, for themselves, their children, and for generations yet unborn").
He leads the Normandy Chair for Peace on Law and Future Generations (Sept. 2019-Sept. 2022), co-created by Region Normandy, CNRS, University of Caen Normandy and hosted by the MRSH.
Presentation of the famous Oposa v. Factoran
This case helped preserve 800,000 ha of ancient tropical forests in the Philippines (considered 8 times richer in biodiversity than the Galapagos Islands): The joy and the path of Jun. Read the article
200 Years, Countless Stories: Antonio Oposa Jr. LL.M. '97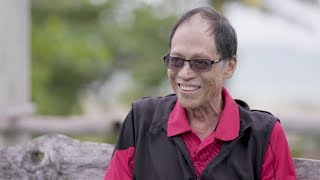 Antonio Oposa Jr. LL.M. '97 reflects on his legacy and efforts to bring environmental sustainability to the Philippines. His landmark lawsuit, Minors Oposa v Factoran, established that future generations could be protected by the court, and ultimately resulted in a logging ban for virgin forests throughout the Philippines. Oposa has dedicated his more recent efforts to activism and environmental education. On Earth Day 2018, Oposa is reopening SEA CAMP, an experiential learning center for marine ecology and sustainable living, on the shores of Bantayan Island on the Visayan Sea.