Event dedicated to the rights of future generations.
At the invitation of the Office of the High Commissioner for the Protection of Rights, a member of the Board of Directors of the Francophone network since 2018, the Principality hosted a major international meeting of Francophone Ombudsmen and Mediators (AOMF) on July 12 and 13. This meeting in Monaco, whose proceedings were opened by H.S.H. Prince Albert II, was devoted to exploring in a prospective way the role that public and independent institutions for the protection of rights could play in defending the rights of future generations, in light of the increasingly urgent need to be able to make their voices heard in the face of the acceleration of social and environmental crises throughout the world that threaten to irreversibly mortgage their future. Thus, for two days, representatives of more than thirty public and independent institutions met.
Prince Albert II underlined the interest of the reflections undertaken for future generations at the opening of the Monaco Meeting. He quoted Émilie GAILLARD, the general coordinator of the Normandy Chair of Excellence for Peace, who, as an invited expert, opened the discussions on the first day of the meeting with her presentation entitled: Transgenerational democracy and equity: what representation for future generations?
Démocratie et équité transgénérationnelles : quelle représentation pour les générations futures ?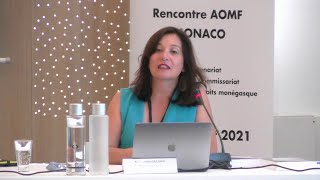 A l'invitation du Haut Commissariat à la Protection des Droits, membre du Conseil d'administration du réseau francophone depuis 2018, la Principauté de Monaco a accueilli les 12 et 13 juillet une grande Rencontre internationale des Ombudsmans et Médiateurs de la Francophonie (AOMF). Cette Rencontre de Monaco, dont les travaux ont été ouverts par S.A.S. le Prince Albert II, a été consacrée à explorer de façon prospective le rôle que pourraient endosser les institutions publiques et indépendantes de protection des droits, dans la défense des droits des générations futures, à l'aune de la nécessité de plus en plus impérieuse de pouvoir faire entendre leur voix face à l'accélération partout dans le monde des crises sociales et environnementales qui menacent d'hypothéquer leur avenir de façon irréversible. Ainsi, pendant 2 jours, les représentants de plus d'une trentaine d'institutions publiques et indépendantes se sont retrouvés. Émilie GAILLARD, la coordinatrice générale de la Chaire d'Excellence Normandie pour la Paix, en tant qu'experte invitée, a ouvert les discussions le premier jour de la rencontre avec sa présentation intitulée : Démocratie et équité transgénérationnelles : quelle représentation pour les générations futures ?
In line with the priorities of the IOF related to the protection of children and youth and the commitment of the Sovereign Prince to the preservation of ecosystems and biodiversity, this theme, discussed during the first day, also echoes the abundant international news of recent months, marked by unprecedented judicial decisions in Germany, Belgium and France in particular, under the impetus of citizens' groups, to compel States to accelerate the implementation of measures to fight against global warming. 
The second day was devoted to exchanges on the challenges of protecting fundamental rights in times of pandemic and Anne EASTWOOD, High Commissioner for the protection of rights, voted on the Monaco Declaration at the end of the Meeting. The Declaration was unanimously adopted in order to take stock of the reflections undertaken and to propose possible solutions aimed at better taking into account and protecting future generations.