Émilie GAILLARD, general coordinator of the Normandy Chair for Peace, explains to the Journal de TV5 Monde the right of future generations and the historical contribution of last Thursday's decision of the German Constitutional Court, which enshrines the fundamental duties of the Future Generations in the fight against the climate.
Environment: what rights for future generations?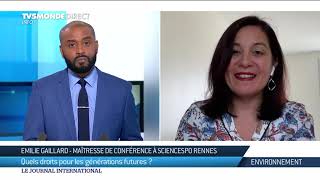 The Climate Law submitted to the vote of the French deputies this Tuesday. The project includes a battery of measures, including the creation of an offence of ecocide. In the background, it is also a question of transgenerational democracy. Our guest: Émilie GAILLARD, Associate Professor in Private Law at Sciences Po Rennes and general coordinator of the Normandy Chair of Excellence for Peace.