Antonio A. Oposa, Jr., Chair Leader of the Normandy Chair for Peace, was recently invited to speak in the Besant Lecture during the 146th international convention of the Theosophical Society.
The Theosophical Society was founded in 1875 in New York and currently has its international headquarters in Adyar, Chennai, India. Its stated mission is to serve humanity by cultivating an ever-deepening understanding and realization of the Ageless Wisdom, spiritual self-transformation, and the unity of all life.
The 4-day online convention held last December 27 to 30, 2021 had as its centerpiece activity the Besant Lecture.
The Besant public lecture was named after the late Dr. Annie Besant, a British theosophist and the second international president of the Theosophical Society. She was a women's rights advocate, a social worker, writer, orator, educator, and philanthropist. The Besant Lectures usually cover subjects related to religion, spirituality, culture and welfare, or the progress of humanity.
Tony Oposa's presentation during the Besant Lecture was certainly unique. Since the convention and the lecture was held online, Tony took advantage of full multi-media features for his presentation which tackled his various environmental advocacies. Tony emphasized that humanity will only have peace on earth when we have peace with the earth.
At the end of Tony's presentation, the moderator, Chally Romero, president and general secretary of the Philippine section of the TS, commented that this was the first time in the history of the Besant lecture that he didn't hear a lecture but rather a presentation rich in stories and anecdotes, prose and poem, culminating in a song with Tony on the keyboards. The presentation also shared numerous colorful paintings of Tony which he referred to as his "scribblings" and which served as accompanying rich visuals.
146th D3 - Children's Wisdom from Theosophical Schools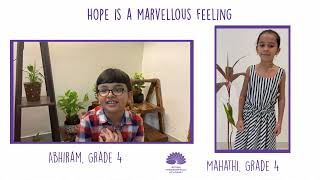 Theosophical Schools' program of Adyar Theosophical Academy (ATA, India) and Golden Link College (GLC, Philippines)
146th D3 - BESANT LECTURE "Let Me Tell You a Story…", Antonio A. Oposa, the Philippines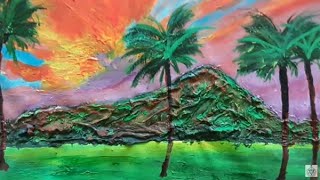 Mr Antonio A. Oposa, President, The Law of Nature Foundation, the Philippines Moderator: Charlton J. Romer, the Philippines Art paintings are made by Antonio A. Oposa himself.