With the participation of Amina Amharech
Born in El Hajeb, in the Moroccan Middle Atlas, Amina Amharech is a teacher, painter and poet she is a committed Amazigh activist. A 2018 OHCHR Indigenous Representatives Program Fellow, she advocates for the land, cultural, identity and linguistic rights of Amazighs and indigenous people in general.
Founding member of the Acal Association in 2014
Member of the World Amazigh Congress since 2015
Founding member of the Amazigh AZUL community network in 2013 (which she represented on the ILC Global Council from 2018-2021)
Founding member of the Feminist Land Platform in 2019 Active nationally and internationally and uses social networks as an alternative means to fight but also to process information and address specific issues facing Amazighs, indigenous people but especially women.
Chairs:
See you on October 14, 2022 at 2pm
By videoconference – On Zoom : Webinar n° 945 2126 8892 – https://zoom.us/j/94521268892 – Or on the Chair's Facebook page: https://www.facebook.com/NormandyChairForPeacehttps://www.facebook.com/NormandyChairForPeace
Le peuple Amazigh : un peuple transfrontalier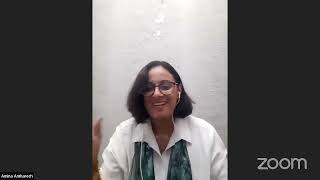 Cycle des rencontre intergénérationnelles avec des représentants des peuples autochtones Amina Amharech est une femme amazighe, originaire du Maroc. Elle est enseignante, artiste peintre et poétesse.
Elle a notamment publié deux recueils de poésie, Tarwa n wassif ; les enfants de la rivière en 2016 et Le Chant de la Guerrière / Irir n Tmannaght en 2019. Amina Amharech est très engagée pour la communauté amazighe et les peuples autochtones de manière générale du local à l'international.
Elle œuvre notamment pour la promotion et la protection des droits fonciers, culturels, identitaires et linguistiques des Amazighs ainsi que pour les droits des femmes sur les scènes nationale et internationale. Elle est également fondatrice de l'Association Action Culturelle Amazighe Laïque (Acal) ou encore du réseau communautaire Amazigh AZUL, et bien d'autres.