December 5, 2019 – 6.30 pm Museo Nacional de Antropología – C/Alfonso XII, 68 – Madrid
A film by Gert-Peter Bruch – produced by Planète Amazone (125′)
Screening followed by a meeting with : 
Gert-Peter Bruch ( Planète Amazone, Alliance of Mother Nature's Guardians)
Mindahi Crescencio Bastida Muñoz (Otomí-Toltec, Mexico), Center for Earth Ethics, Alliance of Mother Nature's Guardians.
Ninawa Huni Kui (Huni Kui – Acre, Brazil), Federation of the Huni Kui, Alliance of Mother Nature's Guardians
Organization : 
Chair Normandy for Peace (University of Caen Normandy, CNRS, Normandy Region)
Rivers Project (Carlos III University, Madrid)
Video: Press conference with Émilie Gaillard on Sanctuarisation of forests
Amazon Planet Press Conference - Normandy Chair for Peace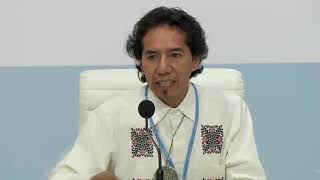 Ravaged by our predatory development model, the Amazon, the green lung of the planet, is in agony. Its disappearance and that of other threatened natural environments, would leave no chance to the fight against global warming, which rightly frightens the international community. Sentinels of this final frontier before chaos, indigenous peoples are engaged in an unprecedented mobilization to survive and try to save us, despite ourselves.
This film tells the story of their struggle, through which nothing less than the fate of humanity is at stake. TERRA LIBRE is not only a cry of alarm, it is a call for the awakening of consciences, with the guardians of the living world as guides. It was in 2014 that Gert-Peter Bruch, director and founder of Planet Amazon, initiated the production of TERRA LIBRE (Free Earth), envisioned as a landmark feature film about the international mobilization of Brazil's indigenous peoples, including the famous Cacique Raoni Metuktire, one of the main threads of his story.
The material for this eventful film consists of several hundred hours of rushes spread over nearly four years of filming, as well as exceptional archival images. During these four years, Gert-Peter Bruch experienced from the inside the inspiring mobilization of sentinels in the fight to protect the planet. They join forces with renowned environmentalists, such as Paul Watson, to create before our eyes an "Alliance of Mother Nature's Guardians" and make inspiring proposals for the world. This immersion, in the form of a logbook, begins at the Rio+20 Summit for sustainable development, in June 2012, and ends with COP 21, the summit on climate change, in December 2015, with an epilogue leading up to the election of Donald Trump, the first climate-skeptic president of the United States, and the Macron presidency and its "Make our planet great again". An uncompromising observation.
TERRA LIBRE's vocation is to be of public utility. It is a plea for the recognition of the rights of nature and the crime of ecocide, which would allow for the effective protection of ecosystems and the climate and thus protect present and future humanity.